■ Applications
- Protect electrical equipment and motors from over-voltage and under-voltage.
- Normal/emergency power supply switching.halls or for delayed fi nish of fans (WC, bathroom, etc.).
■ Function Features
- Controls its own supply voltage(True RMS measurement)
- User may select operation mode through knob.
- Voltage measurement accuracy<1%.
- Relay status is indicated by LED.
- 1-MODULE,DIN rail mounting.
■ Model and connotation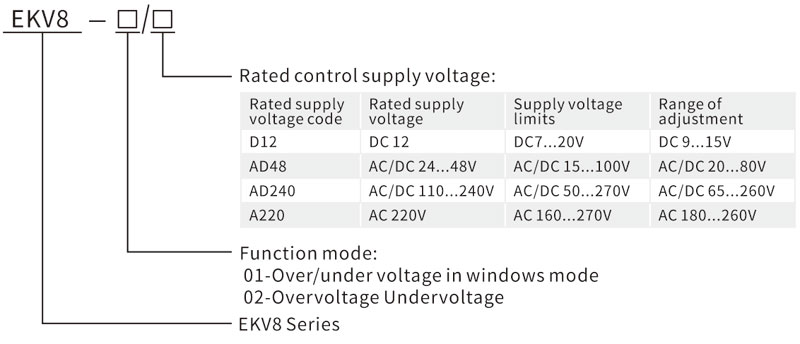 Technical parameters
Technical parameters
EKV8-01
EKV8-02
Function
Monitoring voltage
Supply terminals
A1-A2
Rated supply voltage
DC12V,AC/DC24V-48V,AC/DC110V-240V,AC220V
Rated supply frequency
45Hz-65Hz, 0
Hysteresis
5%-20%
3%fixed
Supply indication
Green LED
Time delay
Adjustable 0.1s-10s, 10%
Measurement error
≤1%
Run up delay at power up
0.5s time delay
Konb setting accuracy
10% of scalevalue
Reset time
1000ms
Switching voltage
250VAC/24VDC
Min.breaking capacity DC
500mW
Output indication
Red LED
Mechanical life
1×107
Electrical life(AC1)
1×105
Operating temperature
-20℃ to +55℃(-4℉ to 131℉)
Storage temperature
-35℃ to +75℃(-22℉ to 158℉)
Mounting/DIN rail
Din rail EN/IEC 60715
Protection degree
IP40 for front panel/IP20 terminals
Operating position
Any
Overvoltage cathegory
III.
Pollution degree
2
Max.cable size(mm2 )
Solid wire max.1×2.5 or 2×1.5/with sleeve max.1× 2.5(AWG 12)
Dimensions
90×18×64mm
Weight
59g
Standards
IEC60255-1, IEC60947-5-1