Residual Current Devices – RCCB
Ultimate protection of people and equipment
RCCB Electrical Features
| | |
| --- | --- |
| Mode | Electromagnetic |
| Type(wave form of the earth leakage sensed) | B |
| Rated current In | 25,40,63A |
| Poles | 2P(1P+N),4P(3P+N) |
| Rated voltage Ue | 2P 240V~,4P 415V~ |
| Insulation voltage Ui | 500V |
| Rated frequency | 50/60Hz |
| Rated residual operation current(I△n) | 30mA |
| Rated residual making and breaking capacity (I△m) | 500A(In≤40A), 10In(In>40A) |
| Short-circuit current Inc= I△c | 10,000A |
| SCPD fuse | |
| Break time under I△n | ≤0.1s |
| Rated impulse withstand voltage(1.5/50) Uimp | 4000V |
| Dielectric test voltage at ind.Freq. for 1min | 2.5kV |
| Electrical life | 2,000 Cycles |
| Mechanical life | 4,000 Cycles |
RCCB Installation
| | |
| --- | --- |
| Contact position indicator | Yes |
| Protection degree | IP20 |
| Ambient temperature(with daily average≤35℃) | -5℃~+40℃ |
| Storage temperature | -25℃~+70℃ |
| Terminal connection type | Cable/Pin-type busbar/U-type busbar |
| Terminal size top/bottom for cable | 25mm2 18-3AWG |
| Terminal size top/bottom for busbar | 25mm2 18-3AWG |
| Tightening torque | 2.5Nm 22In-lbs |
| Mounting | On DIN rail EN60715(35mm) by means of fast clip device |
| Connection | Power supply in both directions |
RCCB Tripping Current Range
| | | |
| --- | --- | --- |
| Lagging Angle | I△n>0.01A | I△n≤0.01A |
| 0° | 0.35I△n≤I△≤1.4I△n | 0.35I△n≤I△≤2I△n |
| 90° | 0.25I△n≤I△≤1.4I△n | 0.25I△n≤I△≤2I△n |
| 135° | 0.11I△n≤I△≤1.4I△n | 0.11I△n≤I△≤2I△n |
Detectable wave form
Pulsating direct current sensitive
Surge current proof
B class
Tripping is ensured for sinusoidal AC residual currents pulsed DC residual currents,alternating residual sinusoidal currents up to 1000Hz,pulsating direct residual currents and for smooth direct residual currents,whether applied suddenly or increasing slowly.

They react to AC and pulsating DC fault current which reach 0 or almost 0 within one time period of the mains frequency.

RCCB's surge capacity.
Not tripping at standardized 8/20 υs surge-current waves acc.to VDE 0432 Part 2 with surge current values of up to 250A.
Circuit Diagram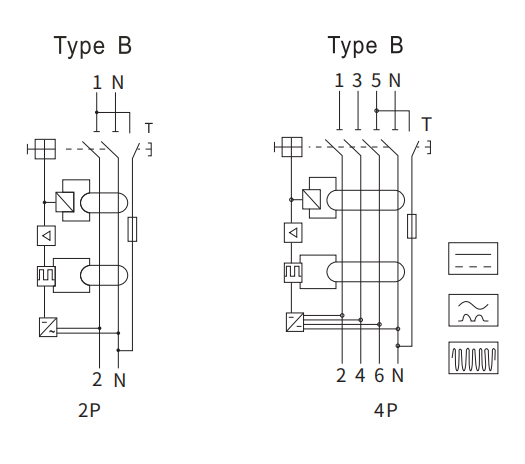 Overall and Installation Dimension(mm)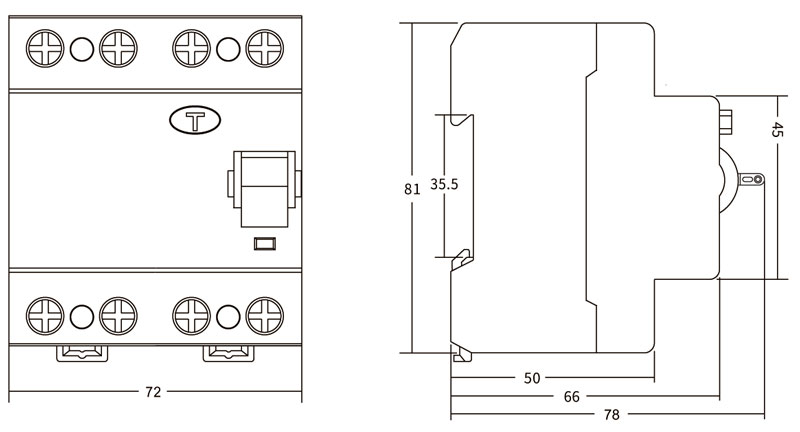 The Residual Current Circuit breaker RCCBs are the safest device to detect and trip against electrical leakage currents, thus ensuring protection against electric shock caused by indirect contacts. These devices must be used in series with an MCB or fuse which protects them from the potentially damaging thermal and dynamic stresses of any over currents. They also act as the main disconnecting switches upstream of any derived MCBs (e.g. domestic consumer unit). Electricians will install an RCBO (Residual Current Breaker with Overcurrent) where there is a need to prevent overload on a particular circuit at the same time as preventing anyone getting a shock, An RCBO also works as an MCB (Minature or Mains Circuit Breaker).